Tuladhara Yoga Teacher Training
Online Application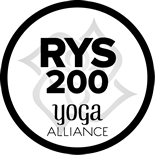 This training is a 200 hour Yoga Alliance Certified Training and will cover these topics: Yoga Philosophy and Lifestyle and Ethics, Anatomy and Physiology, Techniques Training and Practice, Teaching Principles and Methodology, Practicum and Observations.
Aside from the work done with the training staff, participants will be expected to take a minimum of one studio class per week for a total of 16 classes. Additionally, the following expectations are required to participate in our Yoga Teacher Training Program:
Be fully present and participate. Listen, ask questions, give feedback, be open to receive feedback and show respect for others through your participation. You will be asked to speak up and practice teach in groups.
Practice teach with other participants in the group and give and receive feedback from instructors and peers.
Successfully complete all classes, assignments and reading. To successfully complete the program, you will need to complete all hours and attend all classes. If there are extenuating circumstances, you may reschedule with an instructor at an additional cost.
In order to receive a certificate your tuition must be paid in full.
Payment Plans require a valid credit card on file and payments are required on the agreed upon date. You can request a payment plan HERE
If you choose not to complete the program, tuition is non-refundable. If on a payment plan, all payments are still required even if you do not finish the program.

By submitting this application, you agree that once accepted, a $500

non-refundable

deposit will be required to hold your space and will be applied to your balance due. You also acknowledge that you understand and agree to the above expectations.